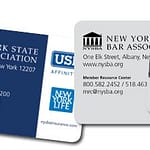 Develop relationships and increase your activity in the organization.
You probably pay dues to at least one organization, whether a professional membership group (e.g., New York State Bar Association), industry association (e.g., 100 Women in Finance) or networking group (e.g., Business Networking International).
Certainly, you hope to get clients and referrals from your participation in the group, and you may have landed a few of each.
Consider that it's not always the direct financial payoff that is the benefit of being a paid member.
There are other intangibles that make your membership dues worthwhile. Keep these in mind when you renew your membership.
Three steps to increase your participation in the group.
1. Build your network: Make a point of connecting with other members. The membership directory may be online, so it's easy to locate members who:
are in a business that overlaps or competes with yours
serve the same clients, but in a different capacity
have an office near yours or in a city where you travel
are alumnae/alumni of the same college or postgraduate school
(See Find Golden Contacts in Your Association's Directory)
2. Hold one-on-one conversations: Getting to know individual members yields tremendous benefits. Not only do you learn more about each other's business activities, you also establish a warmer footing for that next conversation or referral.
More selfishly, you gain practice in explaining what you do and what makes you different from others in your sector. You sharpen your own listening skills and develop more probing questions to become better acquainted with someone outside your usual arena.
3. Request an informal consultation: Have you ever needed a quick brainstorming session? Would you like another pair of eyes to review a short document? The larger your circle of contacts among the members, the more easily you can land the assistance you need. Reciprocate and show you are available for a similar request.
How have my memberships worked out?
Here's the payoff from belonging to Women Owned Law, an association for women attorneys and women-owned businesses serving the legal sector; I joined in 2020:
I established relationships with attorneys who were sources when I wrote columns on Best Practices for the Solo Practice for The New Jersey Law Journal and The New York Law Journal. Their quotes, names, law firms and practice areas were prominently mentioned in my articles, with little effort on their part. This created considerable goodwill, and, in at least one case, greatly enhanced the visibility of a lawyer's recently established practice to other attorneys. A win-win for both sides.
A member asked me to join a panel for a state bar association's webinar.
I requested an informal consultation on a personal matter from another member. I have a Ph.D. in Spanish literature and speak, read and write with native fluency. Yet, before I submitted a brief personal narrative in Spanish for publication in a scholarly book, I asked Carmen Hiers, Managing Partner of Transforma Translation Services and a native Spanish speaker, to check what I had written.
I've presented five 60-minute webinars to the national organization over the years, plus another to a local chapter. These programs led to an invitation to speak to a state bar association.
I edit articles submitted to the member column in the monthly newsletter and I've contributed many as well. I later amplified one column as a two-part series for a legal industry newsletter.
Plus, I landed FIVE clients from informal networking and value-added conversations with these new connections.
Additionally, after serving as an active member on a committee of 100 Women in Finance for nine years, I was hired as a consultant to the organization, now entering my sixth year.
This Month's Tip
Apply the Marketing RBI paradigm to your membership. As you may recall, two of the components are:
Speaking (Here's the Pitch): Create opportunities where you can speak to the members, as a panelist or moderator, or on the association's podcast.
Writing (Keeping the Box Score): Contribute to the organization's newsletter or blog.
When you implement these activities, remember this step:
 Extend Your Presence Online (Cover All the Bases): Promote your involvement and the group's activities in your posts on LinkedIn and other social media platforms.
You can see how these tactics have supported my business development. Try them yourself.
Contact
It only takes one client to cover the whole thing, namely your dues. But it's not only about getting business. Your membership dues are an investment. It's time they yielded a payoff in intangible returns beyond clients and referrals.  Contact me at Janet@JanetLFalk.com, set an appointment here or call me at 212.677.5770.Together, let's brainstorm how you might take advantage of networking, speaking, writing and other activities as you engage with fellow members of your professional and industry associations. 
Click here to read prior issues of this newsletter.
Click here to subscribe to this monthly newsletter and make sure you don't miss the next issue. 
Thanks to Nancy Mertzzel, President of Women Owned Law, whose conversation inspired this discussion.
Image credit: New York State Bar Association.